Photography "0023828542"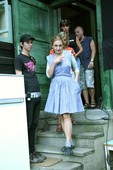 Eva Holubova
Nataceni Filmu Takova normalni rodinka
| | |
| --- | --- |
| Shot location: | Dolni Bousov, Czech republic |
| Creation date: | Aug 15, 2007 |
| Add date: | Jan 8, 2008 |
| Series: | 39467, View the whole series |
| | |
| --- | --- |
| Model release: | Is not available for this image |
| Property release: | Is not available for this image |
Model release not available!
CAUTION: if image is of a person or persons (including human face and body) it means that image does not contain model-release, i.e. it does not include permission of portrayed persons to any commercial use of this photograph. Before any use of this photograph, the licensee is obliged to obtain written approval from portrayed persons. Obtaining the approval from such persons is the responsibility of the licensee.
Rights-managed
Price is calculated by image usage. Each order contains a photo usage definition (leaflet, advertising, billboard), print size and number of copies.
For the photos under the Rights-managed licence, our photo bank is able to provide you with exclusivity which can guarrantee local or time exclusive licence for using the specified photo to you or your client. You do not have to worry that the photo would be used by someone else.

Reading the pricelist...
URL: http://www.profimedia.com/0023828542
---
Similar images
I am searching for similar images...
---